Page 1 of 4 • 1, 2, 3, 4


Luigi 70 wrote:

the BT45 Press Version is here:

mediafire.com download/0g7cxuscq4g6w2l/Brabham_BT45_Press_Version.rar
Last edited by Wookey on Fri 20 Nov - 17:07; edited 1 time in total
Luigi 70 wrote:ok guys, no problem!

BT47 is here:

mediafire.com download/9zh8j9hlz88zs5d/1978_BT47.rar
Brabham BT47, a project of Gordon Murray for 1979, should the fan car be allowed.
Luigi 70 wrote:1976 Renault Alpine A500 - 1st prototype

is here:

mediafire.com download/adb1be4zpodi3qx/Renault_Alpine_A500.rar
The great Luigi is back ! Enjoy !
Last edited by Wookey on Thu 11 Jun - 15:37; edited 3 times in total
F1CFan1804 wrote:My first try, Dundrod

mediafire.com download/btdt8wm7537ccr6/Dundrod_1950.rar

There are a few small bugs, the AI sometimes crashes in very strange places, but in general it works OK.

It's a quite challenging track. Done about 15 3-lap races on here now and failed to finish most of the times (Well, those 50s and 60s Formula 1 cars aren't the easiest to drive, are they?)

Enjoy!

McLeod

F1 Driver





Messages

: 754


Date d'inscription

: 2015-03-06


Age

: 37


Localisation

: Vannes (56) France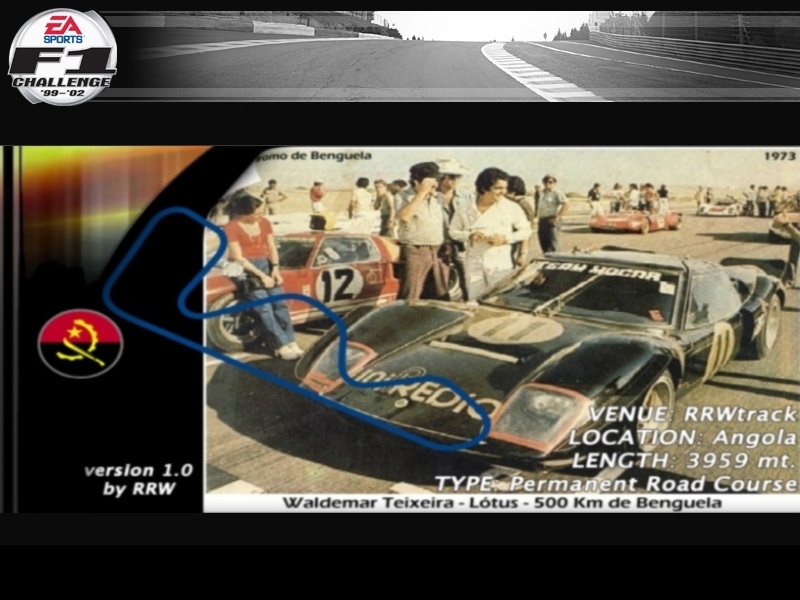 Bengela GP Layout + Benguela Short Final Version:
BenguelaGP and BenguelaShort
Created for rFactor by SlowMotion for rfactoracingweb.com, converted with permission by CECCO#33.
Installation:
---------------
* extract the rar into SeasonData and overwrite.
* Open the *.gdb file with Notepad or another text editor and put at Filter Properties = testcars (by default).
the filter of the mod you want, for example: 2005rh. Must be like that: Filter Properties = testcars, 2005rh
* Make attention to don't exceed 30-35 filters to avoid ctd (crash to desktop).
* in the track selection, search for benguelagp and benguelashort.
Known bugs:
---------------
* Plane animation as a helicopter animation.
* Shadows doesn't work in some parts of the grass terrain surround the track.
~~~~~~~~~~~~~~~~~~~~~~~~~
CECCO#33
RaceSimulations.com
http://redheroes.forumcommunity.net
ceccoracing@fastwebnet.it
(gli altri contatti sono preferiti, ma in caso d'urgenza...)
[Improved F1C track by: Jalnervion]
What's had modified by Jalnervion:
* Plane object (obj_92.mts) is now, visible. Textures of the plane improved.
* Weather change.
* Sky textures improved.
* Horizon textures improved.
* This track work properly with my Special Effects. I recommend the last version of Special Effects avalaible.
LINK:
mediafire.com download/858s8ehfl8i1fv4/Benguela_GP_+_Benguela_Short_Final.rar
LINK:
mediafire.com download/7r9zqhd8951vb81/Special_Effects_11.0.rar
Benguela GP:
Benguela Short:
Last edited by JALNERVION on Mon 28 Sep - 21:19; edited 1 time in total

JALNERVION

Competition racer





Messages

: 119


Date d'inscription

: 2014-11-09



Download
Loch Rannoch
mediafire.com download/lln7xxuh0zd30tj/LochRannoch.zip
Here is my second conversion, Gothenburg.
mediafire.com download/gq3acx1g3wg33g4/Gothenburg.rar
This small track (only 1,6 km length) in the industrial harbour of Gothenburg was used by the STCC from 2008 to 2014.
Don't mind the literally flying flags at start/finish, there was a bug in the pit building, so that had to be removed in order to make the track driveable.

F1CFan1804

Competition racer





Messages

: 176


Date d'inscription

: 2014-11-15


Localisation

: Netherlands



Page 1 of 4 • 1, 2, 3, 4


---
Permissions in this forum:
You
cannot
reply to topics in this forum