Page 19 of 23 •

1 ... 11 ... 18, 19, 20, 21, 22, 23


C'est décontracté et confiant que j'aborde cette semaine d'essais avant Kyalami. Comme souvent à cette occasion, les voitures sont montées pour la première fois, arrivées en caisse par avion. Et une bonne semaine de travail pour les mécaniciens alterne avec des tours d'essais privés et des festivités mondaines au Kyalami Ranch.
Les Vulkan impressionnent pendant cette semaine, et semblent déjà fin prêtes pour la saison. La finition impeccable trahit leurs origines "Eagle", mais aussi l'oeil sourcilleux et professionnel que cache l'apparente décontraction de l'équipe de Perre Sheller. Le jeune argentin Carlos Reutemann est particulièrement impressionnant. L'armada March en impose. Le jeune constructeur britannique inaugure sa présence en F1 avec pas moins de 5 châssis ! On note cependant que l'écurie Tyrrell semble bien plus au point que les March d'usine. A moins que ce ne soit que le coup de volant de Stewart?
Le samedi, la seconde séance d'essais officiels corrige quelque peu cette impression, les Vulkan ne se classant qu'en 4ème ligne, Ferrari, Vaillante et Lotus partageant avec ma Wookey et une March les meilleurs places.
Au départ, j'ai préparé une petite surprise à mes concurrents. Je profite de la longue ligne droite et de l'aspiration de la Ferrari pour me lancer dans une folle accélération, au rupteur. Un freinage absolument fou à Crowthorne parachève la manoeuvre et je pends la tête ! J'aurais pu griller mon moteur, mes freins ou mes pneus? Oui et non. La manoeuvre était prévue et les 3 éléments renforcés en ce sens.
Non seulement la piste est dégagée, mais derrière les favoris s'interrogent. Certains me laissent partir certains que je ne tiendrai pas ce rythme. D'autres comme Stewart et les Vaillante se jettent dans une bataille de rue pour me suivre, grillant leurs voitures.
En embuscade derrière, les deux Vulkan passent à l'attaque à mi course, et refont leur retard, dépassant les survivants. Ickx et Rindt, épuisés lèvent le pied en fin de course pour essayer de joindre l'arrivée. Ils finiront hors des points.
En effet, Nathy Wehbé, montre qu'elle n'a rien perdu de son talent incisif en menant la charge, suivie par l'inconnu italien Riccardo Priori, mon coéquipier Chris Lewis et par Pedro Rodriguez.
Dans le dernier tour, on me panneaute qu'il me reste 5 secondes d'avance sur Reutemann déchainé et que Chris, mon coéquipier du jour est quatrième. Je savoure ce dernier tour, attentif à tous les petits signes de fatigue de ma Wookey. Les freins sont nazes, la boîte couine, les pneus cloquent et une petite fumée se dégage du moteur... Mais elle tient ! Première victoire pour ce premier Grand Prix de l'année. J'exulte dans les bras d'Henry tandis que non loin de moi je vois la fête célébrée avec autant de joie par le clan Vulkan, tandis que Luigi, inquiet, aide une Nathy épuisée par son exploit à s'extraire de sa voiture.
J'attends Chris pour célébrer avec lui ses premiers points... hélas les voitures arrivent les unes après les autres et pas de Chris... Ne comprenant rien à l'Afrikaans, j'attends que le speaker répète son annonce en anglais. Chris s'est rangé à Sunset, suspension cassée. Quelle déveine pour lui !
Qualifs :
1) Stewart
2) Ickx
3) Rindt
4) Warson
5) Nicolas
6) Vaillant
7) Reutemann

Scheller
9) Lewis
10) Rodriguez
It is relaxed and confident that I approach this week of testing before Kyalami. As often on this occasion, the cars are assembled for the first time, arriving in boxes by plane. And a good week of work for mechanics alternates with private test laps and social festivities at the Kyalami Ranch.
The Vulkans impress during this week, and seem already ready for the season. The impeccable finish betrays their origins "Eagle", but also the eye-catching and professional conceals the apparent relaxation of the Perre Sheller team. The young Argentinean Carlos Reutemann is particularly impressive. The armada March imposes. The young British manufacturer inaugurates its presence in F1 with no less than 5 chassis! However, the Tyrrell team seems to be far more advanced than the Factory March. Unless it's Stewart's knockout?
On Saturday, the second official test session corrects this impression somewhat, with the Vulkans only in fourth place, Ferrari, Vaillante and Lotus sharing the best places with my Wookey and a March.
Initially, I prepared a little surprise to my competitors. I take advantage of the long straight and the aspiration of the Ferrari to launch myself in a crazy acceleration, to the break. An absolutely crazy braking at Crowthorne completes the maneuver and I take the lead! I could have roasted my engine, my brakes or my tires? Yes and no. The maneuver was planned and the 3 elements strengthened in this direction.
Not only is the track clear, but behind the favorites are wondering. Some let me leave some that I will not keep this pace. Others like Stewart and the Vaillante throw themselves into a street battle to follow me, grilling their cars.
In ambush behind, the two Vulkans pass to the attack halfway, and redo, surpassing the survivors. Ickx and Rindt, exhausted, raise their foot at the end of the race to try to reach the finish. They will finish off points.
Indeed, Nathy Wehbé, shows that she lost none of her incisive talent by leading the charge, followed by Italian unknown Riccardo Priori, teammate Chris Lewis and Pedro Rodriguez.
In the last lap, I was told that I still have 5 seconds left over Reutemann and Chris, my teammate of the day is fourth. I savored this last lap, attentive to all the little signs of fatigue of my Wookey. The brakes are half-dead, the box squeaks, the tires are blistering and a small smoke emits from the engine ... But it holds! First victory for this first Grand Prix of the year. I exult in Henry's arms while not far from me I see the feast celebrated with such joy by the Vulkan clan, while Luigi, worried, helps Nathy, exhausted by her exploit, to extricate herself from his car.
I wait for Chris to celebrate with him his first points ... alas the cars arrive one after the other and not Chris ... Not understanding the Afrikaans, I wait for the speaker to repeat his announcement in English. Chris stoped at Sunset, broken suspension. What a deuce for him![/quote]
Last edited by Wookey on Wed 30 Aug - 17:40; edited 6 times in total
Chris Oliver, un Australien, et Anthony Ross, un Sud-Africain, ont certaines choses en commun.
Ils sont à la fois mécaniciens, ils sont tous deux venus vivre à São Paulo, au Brésil. Tous deux ont épousé une brésilienne et ont eu un fils dans le pays qui aimait les automobilistes.
Ensemble, ils décident de créer l'atelier Oliver et Ross, qui marche plutôt bien, et, après eux, leurs enfants, Charles et Danny, respectivement, obtiennent de bons résultats dans de petites formules de promotion, ils décident de tester Danny Ross, le fils d'Anthony Ross en F1. Avec cette idée à l'esprit, ils surveillent attentivement l'ami d'Anthony, Peter de Klerk dans son incursion dans le GP d'Afrique du Sud et parviennent à joindre leurs efforts pour acheter son Brabham BT 26A pour exécuter autant de courses que possible dans le championnat de F1 de 1970. Chris, le fan de Jack Brabham, avait cette voiture à l'esprit depuis qu'il a vu Black Jack le conduire en 1968 et l'a souhaité pour cette année.
Ils ont obtenu le parrainage de Vila Rica, une marque brésilienne de cigarettes.
En fin de compte, Danny commencerait dans la RoC. Charles finit par devenir son mécanicien, avec Chris et Anthony.
Un autre BT26 est entré par Tom Wheatcroft pour Derek Bell.
Pete Lovely tente sa chance avec sa Lotus 49. La plupart des équipes envoient une seule voiture à part McLaren avec deux monoplaces d'usine plus deux alignés par Surtees.
Je viens avec 2 voitures aussi, en gardant le très bon Chris Lewis avec moi pour le moment.
À noter également le nouveau parrainage de Yardley apparaissant sur le BRM d'Oliver. Cet apport d'argent frais renforce les prétentions de l'ancienne écurie britannique pour la saison.
gb wrote:Chris Oliver, an Australian, and Anthony Ross, a South African, have some things in common.
They are both mechanics, they both came to live in São Paulo, Brazil. Both married a Brazilian woman and had a son in the country who loved motor racing.
Together, they decide to create the somewhat successful autoshop Oliver & Ross and, after their kids, Charles and Danny, respectively, achieve some good results in smaller Formulas, decide to test Danny Ross, Anthony Ross's son, and his luck in F1. With this idea in mind, they attentively watch Anthony's friend, Peter de Klerk in his incursion in the South African GP and manage to join efforts to buy his Brabham B26A to run as many races as they can in 1970's F1 championship. Chris, Jack Brabham's fan, had this car in mind ever since he saw Black Jack drive it in 1968 and wanted it for this year.
They got the sponsorship of Vila Rica, a Brazilian brand of cigarettes.
Ultimately, Danny would start in the RoC. Charles ends up becoming his mechanic, along with Chris and Anthony.


Another BT26 is entered by Tom Wheatcroft for Derek Bell.
Pete Lovely is trying his luck with his own Lotus 49. Most teams send just one car apart from McLaren with two officials and 2 entered by Surtees.
I'm entering 2 cars too, keeping the very good Chris Lewis with me for the moment.
To be noted too is the brand new Yardley sponsorship appearing on Oliver's BRM. This fresh money input makes the old British lady a stronger contender for the season.

| | | | | | | | |
| --- | --- | --- | --- | --- | --- | --- | --- |
| N° | Driver | Team | Constructor | | | Engine | |
| 1 | Jackie STEWART | Tyrrell Racing Organisation | March | 701 | Ford Cosworth | DFV V8 3.0 | Dunlop |
| 3 | Chris AMON | March Engineering | March | 701 | Ford Cosworth | DFV V8 3.0 | Firestone |
| 4 | Bruce McLAREN | Bruce McLaren Motor Racing | McLaren | M14A | Ford Cosworth | DFV V8 3.0 | Goodyear |
| 5 | Denny HULME | Bruce McLaren Motor Racing | McLaren | M14A | Ford Cosworth | DFV V8 3.0 | Goodyear |
| 6 | Peter GETHIN | Team Surtees | McLaren M7A | | Ford Cosworth V8 | |   |
| 7 | John SURTEES | Team Surtees | McLaren | M7C | Ford Cosworth | DFV V8 3.0 | Firestone |
| 8 | Jochen RINDT | Gold Leaf Team Lotus | Lotus | 49C | Ford Cosworth | DFV V8 3.0 | Firestone |
| 9 | Graham HILL | Rob Walker Racing Team | Lotus | 49C | Ford Cosworth | DFV V8 3.0 | Firestone |
| 10 | Pete LOVELY | Privé | Lotus 49B | | | Ford Cosworth V8 | |
| 11 | Jackie OLIVER | Owen Racing Organisation | BRM | P153 | BRM | P142 V12 3.0 | Dunlop |
| 12 | George EATON | Owen Racing Organisation | BRM | P139 | BRM | P142 V12 3.0 | Dunlop |
| 14 | Jean-Pierre BELTOISE | Equipe Matra Elf | Matra | MS120 | Matra | MS12 V12 3.0 | Goodyear |
| 15 | Derek BELL | Tom Wheatcroft Racing | Brabham BT26 | | | Ford Cosworth V8 | |
| 17 | Riccardo PRIORI | Scuderia Priori BRM | BRM | P139 | BRM | P142 V12 3.0 | Pirelli |
| 18 | Danny Ross | Oliver and Ross Motorsport | Brabham | BT26A | Ford Cosworth | DFV V8 3.0 | Goodyear |
| 32 | Michel VAILLANT | Ecurie Vaillante | Vaillante | 701 | Vaillante | V12 3,0 | Firestone |
| 33 | Steve WARSON | Ecurie Vaillante | Vaillante | 701 | Vaillante | V12 3,0 | Firestone |
| 19 | Taka Katsumoto | Team Malongo | Koruto | F3000 | Honda | V12 3,0 | Bridgestone |
| 35 | Philippe Nicolas | Team Wookey | Wookey | PNB 70F1 | Citroën | SM14 V12 3,0 | Michelin |
| 36 | Chris Lewis | Team Wookey | Wookey | PNB 70F1 | Citroën | SM14 V12 3,0 | Michelin |
| 41 | Nathy WEHBE | Scuderia Centro Sud | SCS | P02 | Alfa Romeo | V8 | Pirelli |
| 51 | Dino Falconetti | Gulf Racing | De Tomaso | 505 | Ford Cosworth | DFV V8 3.0 | Dunlop |
| 52 | Carlos Reutemann | Team Vulkan Loteria | Vulkan | T2 | Ford Cosworth | DFV V8 3.0 | Goodyear |
| 54 | Pierre SHELLER | Team Vulkan Loteria | Vulkan | T2 | Ford Cosworth | DFV V8 3.0 | Goodyear |
| 56 | Conrad McLeod | Ecurie Bretagne | McLeod | LG70 | Matra | MS12 V12 3.0 | Goodyear |
| 72 | "Razor Ramon" | Escuderia Don Pedro | March | 701 | Ford Cosworth | DFV V8 3.0 | Firestone |
Work still in progress, French version and images tio be added
Last edited by Wookey on Sat 26 Aug - 13:15; edited 2 times in total
26 voitures débarquent sur le circuit anglais de Brands Hatch pour la traditionnelle Course des Champions.
Est-ce la chance des débutants? Danny Ross signe une pole inattendue en début de séance avant que la piste ne refroidisse soudainement suite à une averse.
Vite débordé en début de course, il finit par briser une suspension avant et regarde le reste de la course assis contre le grillage. Je me retrouve vite troisième derrière Rindt et Stewart. Mais les deux favoris cassent, et sans grand effort, je me retrouve en tête. Je n'ai dès lors plus qu'à gérer l'acart avec Reutemann qui s'est extrait du peloton pour me mener la chasse.
Peter Gethin intercale sa McLaren entre les deux Vulkan. Riccardo Priori confirme l'étonnante forme de sa vieille BRM et on commence à se demander comment il obtient de tels résultats avec cette poussive antiquité. D'autant qu'il réussit à résister au retour d'un étonnant Chris Lewis qui termine sixième à deux secondes de l'italien.
Je félicite chaleureusement mon coéquipier hispano-britannique. Il quittera provisoirement l'écurie après Naples pour se concentrer sur ses projets en Endurance avec Lola, mai sil a montré son talent, et cela devrai lui servir dans l'avenir.
Bien qu'hors championnat, cette deuxième victoire en deux courses a un certain retentissement médiatique. La presse commence à me voir comme un sérieux prétendant pour le titre. Cela me permet de négocier une rallonge avec mes sponsors, et aussi de finaliser l'arrivée de Cevert pour la suite de la saison, Total acceptant de dédommager le pilote parisien de son contrat avec Shell.
GB wrote:
26 cars land on the English circuit of Brands Hatch for the traditional race of Champions.

Is this beginners' luck? Danny Ross made an unexpected pole early in the session before the track suddenly cooled down due to a downpour.

Quickly overwhelmed at the start of the race, he finally breaks a front suspension and watches the rest of the race sitting against the fence. I quickly found myself third behind Rindt and Stewart. But the two favorites break, and without great effort, I find myself in the lead. So I only have to manage the gap with Reutemann who got out of the peloton to chase me.

Peter Gethin intercepts his McLaren between the two Vulkan. Riccardo Priori confirms the amazing sharpness of his old BRM and people begins to wonder how he gets such results with this antiquity dust. Especially since he managed to resist the return of an astonishing Chris Lewis who finishes sixth to two seconds from the Italian.

I warmly congratulate my Spanish-British team-mate. He will temporarily leaves the team after Naples to focus on his Endurance projects with Lola, but he has shown his talent, and this will have to serve him in the future.

Although out of the championship, this second victory in two races has some media repercussions. The press is beginning to see me as a serious contender for the title. This allows me to negotiate an extension with my sponsors, and also to finalize the arrival of Cevert for the rest of the season, Total agreeing to compensate the Parisian driver for his contract with Shell.
Last edited by Wookey on Sat 26 Aug - 14:26; edited 4 times in total
Après l'annulation de 1969, on se doutait que Luigi Mennella aurait à coeur de se présenter sur ses terres avec une des petites surprises dont il est coutumier. Mais on ne s'attendait pas à un tel festival !
D'abord, bien entendu, le sorcier napolitain s'alignait, comme prévu aux cotés de sa charmante épouse sur une monoplace SCS02  flambant neuve. Mais le samedi matin, deux monoplaces absolument inattendues se présentaient aussi.
Le secret avait été bien gardé. Jalouse de voir Alfa Romeo et Ferrari se battre en Endurance comme en F1, Lancia a préparé discrètement un moteur V8. Dans la tourmente qui suivit le décès d'Antonio Fessia, l'ingénieur Zaccone Mina eut l'idée de doubler le 4 cylindres en ligne de la Fulvia en en V8 à 90°, suivant en cela l'exemple du Cosworth. Sans aucun soutien de la direction, occupée par le cimentier Pesenti, il obtient un vieux châssis Brabham passablement fatigué pour faire les premiers essais. Cesare Fiorio, au début inquiet de conserver tous ces moyens pour le rallye se laissa fléchir quand Sandro Munari lui indiqua qu'on pourrait probablement tirer quelques leçons intéressantes de l'expérience.
C'est l'organisation d'une course hors-championnat en Italie qui fût le détonateur. En effet, dès 1969, la société Martini & Rossi recherchait un partenaire pour venir en F1. Craignant la réaction de Fiat, qui venait de racheter Lancia, les compères choisirent de garder leur projet secret jusqu'à ce samedi matin, sur les hauteurs de Naples, ou le "Martini Racing" choisit de dévoiler la splendide monoplace. Si elle garde un air de parenté avec la Brabham, c'est bien un châssis monocoque tout neuf baptisé D70, en clin d'oeil à la fameuse D50 d'Ascari, qui est propulsé par les 8 cylindres du moteur DS70. Pour cette course, c'est le rallyeman Sandro Munari qui la conduira. Un choix assez logique sur ce circuit accidenté qui ressemble plus  spéciale de rallye qu'à un circuit classique.
Non moins spectaculaire est la présence dans les stands de la "Johnny Lightning Special". Le châssis Lola T150 dont elle est dérivée date pourtant de 1968. Il s'agit à l'origine d'une voiture à 4 roues motrices pour Indianapolis. Le nouveau règlement de l'USAC a imposé de la ramener à une propulsion classique et la société Topper Toy's a financé la modification, moyennant le changement de nom de la monoplace. Johnny Lightning est en effet le nom de leur nouvelle ligne de voitures en modèle réduit.  Evidemment, la décoration de la voiture témoigne de cette destination. Prévue initialement uniquement pour les courses américaines, la JLS s'est rapidement vue adjointe une "petite soeur" de F1 propulsée par le classique Cosworth. A l'origine de cet engagement, Francky Mennella ! Cousin éloigné de Luigi, courant en midget, en IMSA et dans différentes catégories US, Francky, enthousiasmé par la présence de son cousin en F1 s'est dit "pourquoi pas moi?" et avec un culot incroyable a réussi ce pari incroyable. Afin de ne pas encombrer la jeune équipe Parnelli, c'est en Italie, dans des ateliers voisins de ceux de la Scuderia Centro Sud, à Torre del Greco, que l'équipe italo américaine a élu domicile. Certains pensent d'ailleurs que SCS apporte un appui plus important que ce que souhaiterait Alfa Romeo à l'aventure. EN attendant, pour la course de Naples, Luigi sera bien au volant de sa propre voiture, aux cotés de Nathy Wehbé, tandis que Francky conduira la seule et unique Johnny Lightning.
GB wrote:After the cancellation of 1969, one suspected that Luigi Mennella would have to heart to appear on his lands with one of the small surprises of which it is customary. But we did not expect such a festival!

First of all, of course, the Neapolitan sorcerer aligned himself, as planned next to his charming wife on a brand new SCS02 single-seater. But on Saturday morning, two absolutely unexpected cars also appeared.

The secret had been well kept. Jealous of seeing Alfa Romeo and Ferrari fight in Endurance as in F1, Lancia has discreetly prepared a V8 engine. In the turmoil that followed the death of Antonio Fessia, engineer Zaccone Mina had the idea of ​​doubling the 4 cylinders in line of the Fulvia in V8 at 90 °, following the example of the Cosworth. Without any support from the management, occupied by the cement Pesenti, it obtains an old Brabham chassis somewhat tired to make the first tests. Cesare Fiorio, at first worried to keep all these means for the rally allowed itself to be weakened when Sandro Munari indicated to him that one could probably draw some interesting lessons of the experiment.

It was the organization of an out-of-champion race in Italy that was the detonator. Indeed, as early as 1969, the company Martini & Rossi was looking for a partner to come in F1. Fearing the reaction of Fiat, who had just bought Lancia, the companions chose to keep their project secret until Saturday morning, on the heights of Naples, where the "Martini Racing" chooses to unveil the splendid car. If it keeps an air of relationship with Brabham, it is a brand new monocoque chassis dubbed D70, in tinker with the famous D50 of Ascari, which is propelled by the 8 cylinders of the engine DS70. For this race, it is the rallyeman Sandro Munari who will lead it. A fairly logical choice on this rugged circuit that looks more special of rally than a classic circuit.

No less spectacular is the presence in the stands of the "Johnny Lightning Special". The chassis Lola T150 from which it is derived dates however from 1968. It is originally a 4 wheel drive car for Indianapolis. The USAC's new regulations forced it to be converted to a conventional propulsion, and Topper Toy's financed the modification by changing the name of the car. Johnny Lightning is indeed the name of their new line of model cars. Obviously, the decoration of the car testifies to this destination. Originally planned only for American races, the JLS quickly joined a "little sister" of F1 propelled by the classic Cosworth. At the origin of this commitment, Francky Mennella! Cousin far from Luigi, running in midget, IMSA and in various US categories, Francky, enthusiastic about the presence of his cousin in F1 said to himself "why not me?" And with an incredible nerve has managed this incredible bet. In order not to clutter the young team Parnelli, it is in Italy, in workshops neighboring those of the Scuderia Centro Sud, in Torre del Greco, that the italian American team has chosen domicile. Some think that SCS is giving more support than Alfa Romeo would like to adventure. Meanwhile, for the Naples race, Luigi will be driving his own car, alongside Nathy Wehbé, while Francky will lead the single and only Johnny Lightning.
Last edited by Wookey on Tue 29 Aug - 17:33; edited 4 times in total (Reason for editing : R2VUE)
A ceux qui le voyaient déjà à la retraite, Luigi Mennella a apporté un démenti cinglant. Impérial sur ses terres, Luigi a réalisé une fabuleuse pole position, s'imposant aux essais devant rien de moins que Stewart, Rindt, Ickx et moi même... Que ne ferait-on pas pour épater sa belle? Nathy, très impressionnée le félicita chaleureusement avant de s'éclipser dans les coulisses avec son coéquipier, team manager... et mari.
Confirmant sa bonne forme, Luigi signa également le meilleur tour en course, et fût en tête durant son premier tiers. Hélas il fût l'une des victimes de l'hécatombe d'abandons qui balaya la majorité du plateau.
Reprenant la tête, je fus à mon tour victime d'ennuis de moteur, il faut dire qu'entre la chaleur et les chocs causés par une chaussée accidentée, les mécaniques avaient été poussées à leurs limites. Cevert qui débutait sur la seconde Wookey n'a pas eu plus de chance et a brisé une suspension sur un dos d'âne. Et c'est Chris Lewis qui sauve l'honneur de l'écurie avec sa troisième place pour sa dernière apparition dans une voiture bleue.
Survivant au carnage, Pierre Scheller parvient à résister aux assauts de Michel Vaillant et gagne la couronne du vainqueur. Priori, Courage et Beltoise se partagent les places d'honneur restantes.
Malheureusement pour la ville de Naples, les concurrents repartent assez déçus de leur week end italien. Malgré la grande gentillesse de l'accueil et l'excellence des restaurants et des pâtisseries locales, les teams managers se désolent de ce circuit de Posilipo qui a cassé beaucoup de voitures et leur est revenu cher en réparation. Il est à craindre que cette expérience soit la dernière, même si certaines rumeurs verraient bien un nouveau tracé dans les rues de Torre del  Greco, charmante bourgade située au Sud de Naples.
GB wrote:

To those who saw him already in retirement, Luigi Mennella brought a sharp denial. Imperial on his land, Luigi has achieved a fabulous pole position, imposing himself on trials before nothing less than Stewart, Rindt, Ickx and myself ... What would not one do to impress her beautiful? Nathy, very impressed, warmly congratulated him before slipping behind the scenes with his teammate, team manager ... and husband.

Confirming his good form, Luigi also signed the best lap in the race, and was in the lead during his first third. Alas, he was one of the victims of the massacre of abandonment which swept away the majority of the plateau.

Taking my head back, I was in my turn victim of engine trouble, it must be said that between the heat and the shocks caused by a rough pavement, the mechanics had been pushed to their limits. Cevert, who started on the second Wookey, had no more luck and broke a suspension on a donkey. And it is Chris Lewis who saves the honor of the stable with his third place for his last appearance in a blue car.

Surviving the carnage, Pierre Scheller manages to resist the assaults of Michel Vaillant and gains the crown of the victor. Priori, Courage and Beltoise share the remaining places of honor.

Unfortunately for the city of Naples, the competitors leave rather disappointed of their Italian weekend. Despite the great kindness of the welcome and the excellence of the local restaurants and bakeries, the teams managers are sorry about this circuit of Posilipo which broke many cars and paid them dearly for repair. It is to be feared that this experience is the last, even if some rumors would see a new course in the streets of Torre del Greco, a charming village located south of Naples.
Last edited by Wookey on Tue 29 Aug - 17:55; edited 1 time in total
C'est près de Madrid, sur le circuit passablement sans grand intérêt de Jarama que les nouveautés ayant été présentées à Naples font leurs débuts en championnat. Devant le grand nombre d'engagements (37), les organisateurs du RACE ont l'idée saugrenue d'organiser une séance de préqualifications. Mel leur en prend puisqu'Alex Soler-Roig, le chouchou du public en fait les frais.
Avec lui, disparaissent aussi Siffert, Miles, De Adamich et Eaton.
Sur les 32 pilotes restant, je me débrouille encore une fois pour être sur la seconde ligne aux essais derrière Rindt et Stewart. Les Vulkan, toujours aussi impressionnantes ont joué de malchance et sont derrière moi.
Réitérant ma manoeuvre de Kyalami, je me lance dans un départ canon et vire en tête au premier virage. Mais cette fois, je n'arrive pas à prendre le large et rapidement, Reutemann, puis Scheller me passent.
Nathy Wehbé me harcèle et je me résous à la laisser passer aussi, me retrouvant 4ème, sous la menace de Taka Katsumoto. Me voilà joliment entouré !
A partir de la mi-course, nous rattrapons les attardés et sans aucune galanterie, certains bouchonnent la charmante libanaise, me permettant de me rapprocher. A quelques tours de l'arrivée, je cravache ma Wookey pour me glisser sur le podium, avec les deux Vulkan  suivi par le duo de charme et un Riccardo Priori étonnant sur sa vieille BRM qui devance l'excellent Rodriguez, qui lui bénéficie du dernier modèle. Allez comprendre !
GB wrote:
It is near Madrid, on the fairly unimportant circuit of Jarama that the novelties having been presented in Naples make their debut in the championship. Given the large number of commitments (37), the organizers of the RACE have the absurd idea of ​​organizing a pre-qualification session. Mel takes them since Alex Soler-Roig, the darling of the public makes the expense.

With him also disappear Siffert, Miles, De Adamich and Eaton.

Out of the 32 remaining drivers, I manage again to be on the second line to the tests behind Rindt and Stewart. The Vulkans, still impressive, have played bad luck and are behind me.

Repeating my Kyalami maneuver, I start in a cannon start and turn in the lead at the first corner. But this time, I can not get out and quickly, Reutemann, then Scheller pass me.
Nathy Wehbe harassed me and I resolved to let her pass too, finding me 4th, under the threat of Taka Katsumoto. Here I am nicely surrounded!
From the middle of the race, we catch up with the laggards and without any gallantry, some plug the charming Lebanese, allowing me to get closer. A few laps of the finish, I whip my Wookey to slip on the podium, with both Vulkan followed by the charming duo and a surprising Riccardo Priori on his old BRM ahead of the excellent Rodriguez, who enjoys him the last model. Go figure!

Last edited by Wookey on Thu 31 Aug - 18:33; edited 1 time in total
Championship stabndibngs :
| | | | | | | | | | | | | | | |
| --- | --- | --- | --- | --- | --- | --- | --- | --- | --- | --- | --- | --- | --- | --- |
| | AFS | ESP | MON | BEL | NED | FRA | GBR | GER | OST | ITA | CAN | USA | MEX | Total |
| Nicolas | 9 | 4 | | | | | | | | | | | | 13 |
| Scheller | 4 | 9 | | | | | | | | | | | | 13 |
| Reutemann | 6 | 6 | | | | | | | | | | | | 12 |
| Wehbe | 3 | 3 | | | | | | | | | | | | 6 |
| Priori | 2 | 1 | | | | | | | | | | | | 3 |
| Katsumoto | | 2 | | | | | | | | | | | | 2 |
| Rodriguez | 1 | | | | | | | | | | | | | 1 |
2 pilotes français se partageant la tête du championnat du Monde, et ce même si Pierre Scheller court sous licence uruguayenne, je vous offre les titres de journaux :
L'équipe : "Le jour de gloire est arrivé!"
Le Figaro : "Scheller et Nicolas font briller les couleurs françaises à Jarama"
Le Monde : "Pourquoi la France domine la F1"
L'Aurore : "Vulkan et Wookey, deux équipes françaises survolent le GP d'Espagne"
Mais la conséquence la plus inattendue est notre convocation, séparément, chez le Ministre du Développement industriel et scientifique : François-Xavier Ortoli. En présence de Joseph Comiti, secrétaire d'Etat aux Sports.
Au début, tout se passe bien, cela ressemble à une mondanité de plus. Les ministres nous congratulent sous l'oeil des photographes. Poignées de mains, discours, lecture d'un message du Président Pompidou, grand amateur de bagnoles... Puis les journalistes sont invités à nous laisser et chaque ministre nous prend à part. J'hérite d'abord de Comiti. Avec son accent corse inimitable, je sens ben qu'il prend soin de me faire parler et de gagner du temps. Je ne vois pas trop à quoi il veut en venir avec ses questions sur mes rapports avec DSC. En tout cas il reste très chaleureux et amical, tout en jetant des regards vers l'autre coin de la pièce ou Ortoli semble en désaccord avec Pierre. On entend parfois des mots plus forts que d'autres "intérêt du pays". "Industrie française". "Exportations".  Pierre semble fâché. Je le vois s'éloigner, le visage fermé. Il me grimace un sourire au passage avec un  signe de la main. Ortoli se rabat vers nous.
- "Ah mon cher Nicolas ! Encore merci d'avoir fait triompher une voiture bleue en Afrique du Sud ! Savez vous que grâce à vous Citroën vient de signer un magnifique contrat avec Pretoria? ET Peugeot a augmenté ses ventes !"
... je commence à comprendre... La suite me stupéfait. Noyé dans beaucoup de superlatifs et de félicitations, les deux ministres me font part de la volonté du Président de la République de voir deux écuries de F1 100% française en 1971. Je tergiverse, j'essaie de leur dire que je dirige déjà cette écurie et que l'autre est Matra.
"Cher ami, votre châssis est britannique, votre moteur est italien, votre nom, même, ne sonne pas de chez nous. La richesse de la France repose en  grande partie sur son industrie automobile. Nous ne pouvons pas laisser penser que nous avons besoin des autres pour être les meilleurs. Pensez vous que le soutien que vous apporte Air France ait été décidé sans l'actionnaire qu'est l'Etat?"
Ouille. Là je renifle la grosse anguille... Je me renfrogne.
Comiti s'en aperçoit et tente de m'apaiser, il me tutoie depuis le milieu de la conversation où il m'a rappelé les amis communs dont nous disposons à Marseille. :
"Voyons Philippe, nous ne te menaçons pas, ce soutien tu le mérites par tes résultats, bien sûr ! Mais ne me dit pas que tu ne trouves personne pour te construire ta voiture en France? Après tout, en 1968, ton châssis venait de chez Alpine, non? Et Matra a prouvé qu'on pouvait gagner le championnat avec un châssis français."
Je suis prêt à céder.
"Bon, clairement, qu'attendez vous de moi?"
- "Peu de choses en fait, et nous allons vous aider, en plus. Denis ! Rejoignez nous ! Voilà, je vous laisse avec Denis Gautier-Sauvagnac"
Gautier-Sauvagnac est le prototype de cette nouvelle race de haut fonctionnaire qu'on commence à appeler les "énarques" avec encore à l'époque une nuance d'admiration. Agé de 27 ans, il n'est que de peu mon ainé, et le contact en est facilité. Quand les politiques se sont éloignés, il me rassure.
- "Ne vous en faites pas, tout cela c'est de la politique. Tout ce qu'il veut, c'est pouvoir prétendre que votre voiture est française. Si vous pouviez la faire fabriquer en France, inviter l'ORTF dans vos ateliers à la prochaine intersaison. Le reportage passerait avant les municipales. Selon les résultats de la saison, vous feriez, avec Matra, une belle raison de faire confiance au gouvernement qui fait avancer la France, vous saisissez?"
Je me détends. Bien que très heureux du travail de la famille Cole, c'est vrai que tous ces déplacements à travers la Manche me font perdre du temps et de l'énergie et que moi aussi, j'aimerais tout rapatrier sur le Sud de la France, d'autant qu'en plus de Lédenon, le nouveau circuit qu'achève Paul Ricard près de Marseille permettra des essais toute l'année. Avant même de ressortir de la Rue Saint-Dominique ma décision est déjà prise.
Jospeh Comiti, Ministre des Sports
Ministre du Développement industriel et scientifique : François-Xavier Ortoli
GB wrote:
2 French drivers sharing the lead of the world championship, even if Pierre Scheller runs under Uruguayan license, I offer you the headlines of newspapers:

L'Equipe: "The day of glory has arrived!"
Le Figaro: "Scheller and Nicolas shine the French colors at Jarama"
Le Monde: "Why France dominates F1"
L'Aurore: "Vulkan and Wookey, two French teams fly over the Spanish GP"

But the most unexpected consequence is our convocation, separately, to the Minister of Industrial and Scientific Development: François-Xavier Ortoli. In the presence of Joseph Comiti, Secretary of State for Sports.

At first everything goes well, it sounds like one more mundane event. The ministers congratulate us under the eye of the photographers. Handshakes, speeches, reading a message from President Pompidou, a great fan of cars ... Then the journalists are invited to leave us and each minister takes us apart. I first inherited from Comiti. With his inimitable Corsican accent, I feel that he takes care to make me talk and save time. I do not know what he's getting at with his questions about my relationship with DSC. In any case he remains very warm and friendly, while looking at the other corner of the room or Ortoli seems to disagree with Pierre. Sometimes we hear stronger words than others "interest of the country". "French industry". "Exports". Pierre seems angry. I see him move away, his face closed. He smirks at me with a wave of his hand. Ortoli fell back towards us.

- "Ah, my dear Nicolas, thank you for having a blue car triumph in South Africa!" Do you know that thanks to you Citroën has just signed a magnificent contract with Pretoria and Peugeot has increased its sales! "
... I begin to understand ... The suite stunned me. Drowned in many superlatives and congratulations, the two ministers tell me of the will of the President of the Republic to see two stables of F1 100% French in 1971. I procrastinate, I try to tell them that I already run this stable And the other is Matra.
"Dear friend, your chassis is British, your engine is Italian, your name, even, does not ring from us." France's wealth rests largely on its automotive industry.We can not suggest that we need Of the others to be the best. Do you think the support Air France has given you has been decided without the shareholder that is the State? "
Ouch. There I sniff the big eel ... I scowl.
Comiti noticed it and tried to calm me, he spoke to me from the middle of the conversation, where he reminded me of the common friends we have at Marseilles. :
"Let's see Philippe, we will not threaten you, but you do not tell me you do not find anyone to build your car in France, after all, in 1968 your chassis came from Alpine, no? And Matra proved that we could win the championship with a French chassis. "
I'm ready to give in.
"Well, clearly, what are you waiting for me?"
"Nothing much really. Keep up the good work. We will help you. I'm leaving you with Denis Gautier-Sauvagnac for the details"
Gautier-Sauvagnac is the prototype of this new breed of high-ranking civil servant, who is beginning to be called the "enarques" with a shade of admiration at the time. Aged 27, he is only by my eldest, and the contact is facilitated. When the politicians got away, he reassured me.
- "Do not worry, it's all about politics, all you can do is pretend that your car is French, if you could make it in France, invite the ORTF into your workshop... According to the results of the season, you would, with Matra, give a good reason to voters to trust the government that is advancing France, just in time for local polls. You seize? "
I am relaxing. Although very happy with the work of the Cole family, it is true that all these trips across the English Channel are wasting time and energy and that I too would like to repatriate on the South of France, Especially as in addition to Lédenon, the new circuit completed by Paul Ricard near Marseille will allow testing all year round. Even before I left the Rue Saint-Dominique, my decision is already made.
Quelques heures plus tard, je retrouve Pierre au Pré-Catelan, dans une réception organisée par un sponsor.
« Tu avais l'air furieux en partant. Qu'est-ce qu'il t'avait dit le ministre ?
- Oh ! Les trucs habituels, la grandeur de la France, l'intérêt national...
- Mais encore ?
- Il voulait que non seulement je transfère mes ateliers course en France, ce qui est possible, mais encore que j'y mette un moteur français, alors que j'ai des accords avec Ford pour l'Amérique du Sud. Et aussi que j'abandonne mes sponsors pour des sponsors français. Mais alors j'aurais été pieds et points liés dans leurs mains et demain ils m'auraient viré et « fusionné » avec Matra ou avec toi... Nous les connaissons les gaullistes avec leurs promesses !
- Ouais ! Mais qu'est-ce qu'ils te proposaient ?
- Le Grand Pardon ! Et aussi, peut-être la Rouge. Et des ennuis si je n'obtempérais pas. Les menaces, tu sais où je les mets...
- Tu risques de ne plus pouvoir courir en France et même en Europe.
- Avec quoi ? Ils vont me coincer à l'aéroport avec de la schnouff ou des dollars dans ma valise ? Ils oublient que l'oncle a eu quelques contacts hier et aujourd'hui. Je lui ai demandé ce qu'ils savaient de certains contrats en Afrique et cette partie de la discussion s'est arrêtée fissa. Alors il a entonné le grand air, que la France comptait sur moi, etc. Je l'écoutais patiemment jusqu'au moment où il a dit « Le Général... ». Alors là j'ai éclaté. « La grande Zohra, elle peut rester où elle est et vous avec. » Tu sais la suite.
- Tu sais quoi? N'insulte pas l'avenir. Dis à la presse que ça s'est très bien passé et que tu es très fier de représenter le savoir faire de la France en Amérique Latine. Ca ne mange pas de pain, et ça pourrait leur suffire à sauver la face. Et arrête de me montrer tes échappements en course, ça devient vexant !
Sur son éclat de rire, nous nous étreignons brièvement avant de nous fondre dans la meute des invités qui réclament les vedettes de la fête.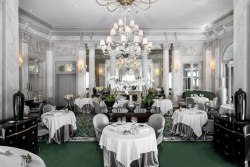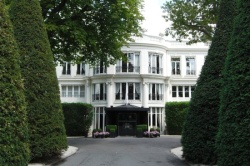 GB wrote:

A few hours later, I meet Pierre in Pré-Catelan, in a reception organized by a sponsor.

"You looked furious when you left. What did the minister tell you?
- Oh ! The usual tricks, the grandeur of France, the national interest ...
- But still ?
- He wanted me not only to transfer my workshops to France, which is possible, but also that I put a French engine, while I have agreements with Ford for South America. And also that I abandon my sponsors for French sponsors. But then I would have been feet and tied in their hands and tomorrow they would have fired me and "merged" with Matra or with you ... We know the Gaullists with their promises!
- Yeah! But what did they offer you?
- The Great Pardon! And also, maybe the Red. And trouble if I did not obey. Threats, you know where I put them ...
"You risk not being able to run in France or even in Europe."
- With what ? Are they going to get me in the airport with brown sugar or dollars in my suitcase? They forget that the uncle had some contacts yesterday and today. I asked him what they knew about some contracts in Africa and this part of the discussion stopped pronto. Then he sang the great air, which France counted on me, & c. I listened patiently until he said "The General ...". Then I broke out. "The great Zohra, she can stay where she is and you with. You know the rest.
- You know what? Do not insult the future. Tell the press that it went very well and that you are very proud to represent the know-how of France in Latin America. It costs nothing, and it could be enough to save face for them. And stop showing me your exhausts in the race, it gets annoying!
On his burst of laughter, we hug each other briefly before merging into the pack of guests who call for celebrity celebrations.
Last edited by Wookey on Thu 21 Sep - 13:48; edited 1 time in total
Après ces mondanités, je n'ai même pas le temps de rentrer dans le midi. Avant de me rendre à Silverstone pour le dîner du BRDC qui précède l'International Trophy, je passe par Sutton, pour rencontrer la famille Cole. DSC a fait un excellent travail et ma Wookey est au top, aussi je suis ennuyé de devoir leur annoncer que cette année sera la dernière de notre collaboration. Je n'ai pas à le faire. Devant ma mine Penaude John Cole m'accueille d'une bourrade amicale et me tend Autosport. Les nouvelles vont vite. Denis Jenkinson, l'excellent journaliste britannique annonce déjà l'information dans ses colonnes.
"Never exlain, never complain" me lance un Nicholas goguenard. "Reason of State is no state of reason". La raison d'état n'est pas un état de raison. Tout est dit, et nous abordons les négociations sur un ton franchement amical. En geste de bonne volonté, je propose un châssis à Nicholas pour l'International Trophy et le British Grand Prix. Il accepte volontiers mais tient à laisser le volant à son père pour la course hors championnat de Silverstone. Nous négocions aussi que je leur laisserai le châssis 1970 à l'issue de la saison. Par contre, je ne parviens pas à les convaincre de me laisser embaucher leurs mécanos à l'issue de la saison. Quelque part, je pense qu'Henry et Marcel, qui n'ont toujours pas beaucoup progressé en anglais, seront ravis de travailler avec un personnel totalement francophone...
Jean-Claude Ogier m'a proposé de superviser la création de notre usine française, aidé par Henry pour le recrutement et en chargeant Marcel de nous trouver un atelier et les achats de machines. Je n'aurai qu'à me féliciter de leur travail.
C'est donc serein et décontracté que j'assiste aux pitreries de Graham Hill et Stirling Moss lors de la soirée du BRDC. Les deux compères, passablement éméchés en fin de soirée, nous gratifient d'une interprétation toute personnelle du tube alors à la mode "Bridge under troubled Water" avec voix de fausset et force mimiques.
After these worldliness, I do not even have time to go back ihome in Southern France. Before going to Silverstone for the BRDC dinner preceding the International Trophy, I go through Sutton to meet the Cole family. DSC has done a great job and my Wookey is on top, so I am annoyed to have to tell them that this year will be the last of our collaboration. I do not have to. In front of my sorry face John Cole welcomes me with a friendly push on shoulder and hands me Autosport. The news goes fast. Denis Jenkinson, the excellent British journalist already announces the information in his columns.
"Never exlain, never complain" throws me a laughing Nicholas. "Reason of State is no state of reason". Everything is said, and we approach the negotiations in a frankly friendly tone. In gesture of good will, I propose a chassis to Nicholas for the International Trophy and the British Grand Prix. He willingly accepts but wants to leave the wheel to his father for the non-championship race at Silverstone. We also negotiate that I will leave the chassis to them at the end of the season. On the other hand, I can not convince them to let me hire their mechanics at the end of the season. Somewhere, I think Henry and Marcel, who still have not made much progress in English, will be delighted to work with a totally francophone staff ...
Jean-Claude Ogier offered to supervise the creation of our French factory, assisted by Henry for the recruitment and in charge of Marcel to find us a workshop and the purchase of machines. All I can do is to congratulate myself on their work.
It is therefore serene and relaxed that I attend the antics of Graham Hill and Stirling Moss during the evening of the BRDC. The two companions, somewhat titillated at the end of the evening, gratify us with a very personal interpretation of the tube then fashionable "Bridge under troubled Water" with falsetto voice and forced mimicry.
Page 19 of 23 •

1 ... 11 ... 18, 19, 20, 21, 22, 23


---
Permissions in this forum:
You
cannot
reply to topics in this forum