Page 6 of 23 •

1 ... 5, 6, 7 ... 14 ... 23


Les essais du Grand Prix du Canada sont une nouvelle fois dominés par les Lotus.  J'apprécie ce tracé valloné tout en courbes. Je parviens à décrocher un honorable 11ème temps. Rindt me met quand même une demi seconde dans la vue à voiture égale. C'est dans ce genre de comparaison que je mesure les progrès qui me restent à faire pour atteindre mon but. Pour le moment, cette place en 5ème ligne  me convient.

the Canadian Grand Prix tests are again dominated by Lotus. I appreciate this hilly curvaceous route. I managed to get a respectable 11th time. Rindt is still faster then me for half a second in equal car. It is in this kind of comparison I measure the progress I have left to do to reach my goal. For now, this place in 5th line is fine for me.



Pos Driver Chassis Engine Time
1 Jim CLARK Lotus Ford Cosworth 1'22''4
2 Graham HILL Lotus Ford Cosworth 1'22''7
3 Denny HULME Brabham Repco 1'23''2
4 Chris AMON Ferrari Ferrari 1'23''3
5 Dan GURNEY Eagle Weslake 1'23''4
6 Bruce McLAREN McLaren BRM 1'23''5
7 Luigi MENNELLA Ferrari Ferrari 1'24''3
8 Jack BRABHAM Brabham Repco 1'24''7
9 Jochen RINDT Cooper Maserati 1'24''9
10 Jackie STEWART BRM BRM 1'25''4
11 Philippe NICOLAS Cooper Maserati 1'25''5
12 Mike SPENCE BRM BRM 1'25''8
13 Chris IRWIN BRM BRM 1'26''0
14 Bob BONDURANT BRM BRM 1'26''1
15 David HOBBS BRM BRM 1'26''2
16 Jo SIFFERT * Cooper Maserati 1'26''6
17 Dick ATTWOOD Cooper Maserati 1'27''1
18 Jo BONNIER Cooper Maserati 1'27''3
19 Al PEASE Eagle Climax 1'30''1
20 Eppie WIETZES Lotus Ford Cosworth 1'30''8
21 Mike FISHER Lotus BRM 1'31''9
  Not qualified (too slow)  
22 Tom JONES Cooper Climax 1'51''9
Je m'applique pendant toute la course à mener une course sage. Je prends beaucoup de plaisir sur ce circuit, et j'apprécie de me concentrer à nouveau uniquement sur mon pilotage depuis que j'ai étoffé mon équipe et réglé son avenir. A l'issue d'une course sérieuse je termine sans réellement comprendre comment je me suis retrouvé dans les points. Une fois de plus les Lotus ont cassé. Une fois de plus, les Brabham en ont profité pour faire le doublé. Les autres ont eu des soucis mécaniques. Pas moi. Et voilà que je me retrouve sur le podium ! Elle n'est pas belle la vie?
I applied throughout the race to lead a wise race. I take great pleasure at this circuit and I like to focus again only on my driving since I expanded my team and set its future. Following a serious run I finish without really understanding how I ended up in the points. Once again Lotus broke. Once again, the Brabham took the opportunity to do the double. The others had mechanical worries. Not me. And now I'm on the podium! It is not life grand?
Results
Last edited by Wookey on Fri 19 Aug - 17:51; edited 2 times in total
Il ne reste que trois grand prix à courir et on ne voit pas trop comment le championnat pourrait échapper à Brabham. Black Jack est favori, et Denny Hulme est son seul rival sérieux. Les Lotus ont encore souffert de problèmes de fiabilité, même si il est évident qu'elles sont les plus rapides. Ma sixième place au championnat me ravit et rassure mes partenaires qui m'envoient tous des télégrammes de félicitations. Dans le Boeing qui me ramène de Montréal, je savoure ce moment de grâce.
There are only three grand prix running and we do not see too how the championship could escape Brabham. Black Jack's favorite, and Denny Hulme is its only serious rival. Lotus still suffered reliability problems, although obviously they are the fastest. My sixth place in the championship and delights me reassure my partners who send me all congratulatory telegrams. In the Boeing brings me back to Montreal, I savor this moment of grace.
Championship standing after Canada
Brabham 37
Hulme 21
Stewart 15
Rindt 15
Clark 14
Nicolas 14
Gurney 11
Hill 9
Ickx 9
Mennella 6
Siffert 4
Rodriguez 4
Spence 3
Parkes 3
Amon 3
Bonnier 2
Ginther 2
Bondurant 2
Scarfiotti 1
Deux fois dans les points au cours des deux dernières courses, je me sens à l'aise pour conduire une fois de plus vers Clermont-Ferrand et rencontrer les gens de Michelin. Une bonne surprise m'attend là en la personne de Pierre Dupasquier. A 30 ans, cet ancien pilote et ingénieur de l'Armée de l'Air française travaille depuis 5 ans dans le département de recherche et était sur le point d'être déplacés vers le service commercial constructeur il y a quelques semaines quand j'ai négocié mon contrat avec Citroën. Il a immédiatement postulé pour être mon chef de projet et a bénéficié d'un petit bureau dans un département compétition dédié jusqu'ici à l'endurance et au rallye. Dans son équipe, seulement 2 personnes, mais ce sont ceux qui communiquait avec Alpine pour les suspensions secrètes du projet de F1.
Nous discutons toute la journée, et terminons la discussion de manière typiquement française par un dîner à l'Hôtel des Voyageurs, à Chamalières.
La nourriture de l'Auvergne et de grands vins de mon bien-aimé Côte du Rhône sont dûment appréciés, mais nous passons surtout ce temps à mieux se connaître. Bien que plus vieux que moi, Pierre est très enthousiaste et a beaucoup d'esprit.
- Penses tu gagner ce championnat? il me demande carrément.
- Bien sûr que non !
- Eh bien, vous avez déjà gagné une course, que penses-tu de terminer la saison avec nos propres pneus, afin de rassembler une certaine expérience pour moi et mon équipe?
- Quand avez-vous besoin d'une réponse?
- Entre la poire et le fromage ! ceci dit en riant
- Pourquoi si vite?
- Parce que nous avons une certaine expérience sur la taille et la puissance des voitures similaires au Mans et on pourrait être prêt pour Monza, mais seulement si nous commençons demain matin et travaillons dur comme l'enfer jusque-là.
- OK, laisse-moi réfléchir.
Dans les minutes qui suivent, nous parlons sur le rugby et le hockey sur glace, ses autres passions, et quand le Saint-Nectaire et le Bleu d'Auvergne ont été dûment mangé, je lui donne ma réponse.
- Eh bien Pierre, donnez-moi des pneus pour Monza. As-tu déjà été là bas?
- Personnellement non, mais notre équipe d'endurance est allé pour les 1000 kms et a recueilli des données. Nous vous donnerons des pneus qui termineront la course. Je te donne ma parole. Je ne peux pas te promettre un niveau de performance, mais je jure que nous allons faire de notre mieux.
Et avec cette promesse, je reprend la route vers Avignon le lendemain matin.
Twice scoring points in the last two races, I feel comfortable to drive once again to Clermont-Ferrand and meet Michelin people. A good surprise waits me there in the person of Pierre Dupasquier. At 30 years old, this former French Air Force pilot and engineer works there for 5 years in the research department and was on the verge to be moved to the B to B sales department a few weeks ago when I arranged my deal with Citroën. He immediately postulated to be my head of project and was granted a small office in the competition departement dedicated so far to endurance and rallye racing. In his team, only 2 people, but there are those who communicated with Alpine for the secret F1 project suspensions.
We discuss all day, and end the discussion in typical French way by a dinner at l'Hotel des Voyageurs, in Chamalières.
Great food from Auvergne and great wines from my beloved Cote du Rhône are duly appreciated, but we really spend this time to know each other better. Although older then me, Pierre is very enthisiastic and far minded.
- Do you mean to win this championship? he asks me bluntly.
- Of course not !
- Well, you already won a race, what do you think to finish the season with our own tyres, in order to grab some experience for me and my team?
- When do you need an answer?
- Between the cheese and the cake, he laughs
- why so quickly?
- Because we have some experience on similar size and power cars from Le Mans and could be ready for Monza but only if we start tomorrow morning and work as hard as hell until then.
- OK, let me think about it.
For the following minutes we speak about rugby and ice hockey, his other passions, and when the Saint-Nectaire and Bleu d'Auvergne cheese have been duly eaten, I give him my answer.
- Well Pierre, give me some tyres for Monza. Have you ever been there?
- Personnaly not, but our endurance team went for the 1000 kms and gathered some data. We will give you tyres that will finish the race. I give my word. I can't give it on a level of performance, but I swear we will do our best.
And with this promise, I drive home to Avignon the following morning.[/quote]
La semaine suivante est encore très occupée avec le garage, et la préparation de l'année 1968. Mais l'essentiel de ma préoccupation reste le prochain GP d'Italie.
24 concurrents se sont annoncés parmi lesquels le jeune italien Andrea De Adamich qui hérite du mulet de mon ami Luigi. McLeod a annoncé que ce serait son dernier GP de l'année. McLaren ressortant sa propre voiture, Gurney passe son second chassis au local Scarfiotti. Lotus engage un troisième chassis pour Scarfiotti. De quoi attirer une foule nombreuse malgré la discrétion de l'équipe d'usine Ferrari qui n'aligne qu'une voiture pour Amon.
N° Driver Team Chassis Engine Tyre
2 Chris AMON Scuderia Ferrari SpA SEFAC Ferrari 312 Ferrari 242 V12 3.0 Firestone
4 Bruce McLAREN Bruce McLaren Motor Racing McLaren M5A BRM P142 V12 3.0 Goodyear
6 Jo SIFFERT Rob Walker / Jack Durlacher Racing Team Cooper T81 Maserati 9/F1 V12 3.0 Firestone
8 Dan GURNEY Anglo American Racers Eagle T1G Weslake 58 V12 3.0 Goodyear
10 Ludovico SCARFIOTTI Anglo American Racers Eagle T1G Weslake 58 V12 3.0 Goodyear
12 Guy LIGIER Privé Brabham BT20 Repco 620 V8 3.0 Firestone
14 John SURTEES Honda Racing Honda RA300 Honda RA273E V12 3.0 Firestone
16 Jack BRABHAM Brabham Racing Organisation Brabham BT24 Repco 740 V8 3.0 Goodyear
18 Denny HULME Brabham Racing Organisation Brabham BT24 Repco 740 V8 3.0 Goodyear
20 Jim CLARK Team Lotus Lotus 49 Ford Cosworth DFV V8 3.0 Firestone
22 Graham HILL Team Lotus Lotus 49 Ford Cosworth DFV V8 3.0 Firestone
24 Giancarlo BAGHETTI Team Lotus Lotus 49 Ford Cosworth DFV V8 3.0 Firestone
26 Jo BONNIER Joakim Bonnier Racing Team Cooper T81 Maserati 9/F1 V12 3.0 Firestone
28 Eric McLEOD Private McLeod Climax V8 2.4 Firestone
30 Jochen RINDT Cooper Car Company Cooper T86 Maserati 10/F1 V12 3.0 Firestone
32 Jacky ICKX Cooper Car Company Cooper T81B Maserati 10/F1 V12 3.0 Firestone
34 Jackie STEWART Owen Racing Organisation BRM P115 BRM P75 H16 3.0 Goodyear
36 Mike SPENCE Owen Racing Organisation BRM P83 BRM P75 H16 3.0 Goodyear
38 Chris IRWIN Reg Parnell Racing BRM P83 BRM P75 H16 3.0 Firestone
40 Oskari KANTONEN Private Lotus 25 BRM V8 2.0 Firestone
42 Philippe NICOLAS Wookey Team Maserati-France Cooper T81 Maserati 10/F1 V12 3.0 Michelin
44 Bob BONDURANT Team Wookey BRM P83 BRM P75 H16 3.0 Goodyear
46 Pedro de la BASETTA Team Vulkan Matra MS5 Dunlop
55 Luigi MENNELLA Scuderia Centro-Sud Ferrari 312 Ferrari 242 V12 3.0 Firestone
56 Andrea De ADAMICH Scuderia Centro-Sud Ferrari 312 Ferrari 242 V12 3.0 Firestone
The next week is still very busy with the garage, and the preparation of the year 1968. But most of my concern is the upcoming Italian GP.
24 competitors were announced including the young Italian Andrea De Adamich who inherits the mule of my friend Luigi. McLeod announced that this would be his last GP of the year. As McLaren tries again to drive his own car, Gurney passes its second frame to local Scarfiotti. Lotus hires a third frame for Scarfiotti. What a solid Italian participation attracting large crowds despite the discretion of the Ferrari factory team which aligns a car for Amon.
Last edited by Wookey on Fri 26 Aug - 14:02; edited 2 times in total
En arrivant le jeudi pour les essais de Monza, la nouvelle de l'arrivée de Michelin fait rapidement accourir les journalistes français, puis les autres. Gérard Crombac et Johnny Rivesz notamment s'interrogent du regard. 'Tu étais au courant?" - "Non et toi?" Pierre Dupasquier élude toutes les qustions le sourire aux lèvres, les journalistes se rabattent sur moi. Je finis par lâcher que je compte sur les pneus Michelin pour finir la saison ce qui semble les atisfaire pour le moment. Ensuite, je chausse mes nouvelles gommes radiales pour la première fois et me lance dans un tour au ralenti. Je sens immédiatement que quelque chose cloche. Je m'y attendais bien entendu, mais pas à ce point. En fait, la structure des pneus accroche mieux en appui, par contre les gommes très dures provoquent des chassés brutaux que j'ai du mal à contrôler. De retour au stands, la discussion s'installe avec Pierre Dupasquier de Michelin et mon mécano chassis, Marcel Jibrayel. Pierre n'a emmené que ces pneus très durs pour honorer sa promesse de me faire terminer la course. Il compte sur les enseignements du week end pour préparer la suite. Marcel me propose d'assouplir les suspensions arrières pour tenter de remédier au problème. Je décide d'y aller par paliers, enchainant les séries de tours et les arrêts réglages.
Arriving on Thursday for testing at Monza, the new Michelin's arrival rapidly hastening the French journalists and others. Gérard Crombac and Johnny Rives particular are questioning look. 'You knew? "-" No, and you "Pierre Dupasquier evades all qustions smiling, journalists fall back on me I finally let go that I rely on Michelin tires to finish the season which seems to satisfy them. Then I put on my new radial tires for the first time and launched into a slow turn. I feel immediately that something is wrong. I expected of course, but not to this extent. in Indeed, the structure of tires grip better support through against the very hard compounds cause sudden I chased hard to control. back in the stands, the discussion moved with Pierre Dupasquier Michelin and my mechanic chassis Marcel Jibrayel. Pierre has taken these very hard tires to honor his promise to make me finish the race. It relies on the teachings of the weekend to prepare for the future. Marcel propose to relax the rear suspension to help remedy the problem. I decided to go in steps, chaining the series of laps and settings stops.
Après de bons essais, je démarre 6ème, à la corde de la troisième ligne. Devant moi Brabham a pris la pole devant Clark et Stewart. En deuxieme ligne, Rindt et Hill. A coté de moi, Hulme et Surtees et tous les autres derrière. Le pauvre Luigi Mennella a cassé son moteur aux essais et part sur son mulet laissant Andrea de Adamich regarder la course des stands. Du coup, l'inattendu Pedro de la Bassetta est repéché malgré le tout petit 2l de son moteur totalement dépassé sur ce circuit de vitesse.
Je prends un bon départ derrière Rindt que je me mets à harceler. Enfin, je lui fais l'intérieur à la parabolique. Une manoeuvre osée que me permet l'aspiration et mon excellent Maserati au moins égal au sien. Pedant que j'essaie de conserver ma cinquième place Clark et Brabham s'accrochent. Me voilà 3ème ! (voir photo Grab_15). Baghetti sur sa Lotus me mène la vie dure jusqu'au bout, mais je réussis à conserver cette place sur le podium ou je rejoins Stewart et Surtees. Une bien belle course qui me vaut les félicitations du personnel Citroën et Michelin que j'avais eu la bonne idée d'inviter.
1 Stewart
2 Surtees
3 Nicolas
4 Baghetti
5 Hill
6 McLaren
7 Hulme
8 Clark
9 Brabham
10 Spence
11 Ligier
12 Irwin
13 Bondurant
all the others withdrew
After a good practice sessions, I started sixth in the inside of the third line. Before me Brabham took the pole in front of Clark and Stewart. In the second line, Rindt and Hill. Beside me, Hulme and Surtees and all the others behind. Poor Luigi Mennella broke his engine in practice and hand on his mule leaving Andrea Adamich watch the race from stands. Therefore, the surprising Pedro de la Bassetta was allowed to race to fill the 24 slot grid, despite the small 2l of its engine is completely surpassed on this speedy circuit.
I take a good start behind Rindt that I start to harass. Finally, I make it inside the parabolic. A daring maneuver that aspiration allows me and also my excellent Maserati at least equal to his. While I try to keep my fifth place Clark and Brabham cling. Here I am third! (See photo Grab_15). Baghetti on his Lotus Makes me have to the hard life, but I managed to keep this podium where I join Stewart and Surtees. A beautiful race I owe congratulations from Citroën and Michelin staff I had the good idea of ​​inviting.
Last edited by Wookey on Fri 26 Aug - 17:56; edited 4 times in total
Si Surtees est heureux de rapporter ses premiers points à Honda, je suis ravi de parvenir à la 4ème place provisoire du championnat. Avec seulement deux courses à disputer, Brabham n'est pas encore Champion du Monde, mais ses 13 points d'avance le placent nettement en favori.

While Surtees is happy to give Honda its first points, I'm satisfied to reach the 4th place of the classification. With only 2 races to be ran, Brabham  is not yet World Champion but his 13 point lead place him as the favorite.

Championship standings after Italian GP

Brabham 37
Stewart 24
Hulme 21
Nicolas 18
Rindt 15
Clark 14
Gurney 11
Hill 11
Ickx 9
Mennella 6
Surtees 6
Rodriguez 4
Siffert 4
Amon 3
Baghetti 3
Parkes 3
Spence 3
Bondurant 2
Bonnier 2
Ginther 2
McLaren 1
Scarfiotti 1
Last edited by Wookey on Fri 26 Aug - 18:05; edited 2 times in total
Avant de s'envoler vers l'Amérique du Nord pour les 2 dernières courses du championnat de l'année, une autre épreuve apparaît dans le calendrier. Initialement, la Gold Cup devait n'attirer seulement qu'une poignée de Formule 1 de et beaucoup de pilotes de F2 britanniques. Mais la proximité de l'ouverture au sponsoring extra sportif en 1968, a déclenché l'intérêt de Rothmans pour la F1 et ils ont décidé de donner d'énorme primes d'engagement pour la course qui aura lieu à Oulton Park sous le patronage également du Daily Express. Bob Bondurant et moi sautons sur l'occasion de recueillir quelques livres et nous nous attendons à voir beaucoup de nos amis privés se joindre à nous.
Before flying to North America for the 2 last championship races of the year, another race pops up in the calendar. Initially, the Gold cup should have attracted only a handful of Formula 1's and a lot of British F2 drivers. But the proximity of non-industry sponsorship in 1968 as triggered the interest of Rothmans cigarettes company into F1 and they have decided to give huge prize money for the race to be held at Oulton Park, also sponsored by the Dailt Express. Bob Bondurant and me jump on the occasion to collect some pounds and we expect to see a lot of our privateers friends join us.
Last edited by Wookey on Sun 28 Aug - 9:38; edited 4 times in total
14 septembre 1967

Entry list for the Rothmans Gold Cup at Oulton Park
N° Pilote Écurie Constructeur Moteur
1 Jack BRABHAM Brabham Racing Organisation Brabham BT24 Repco V8
2 Frank GARDNER Brabham Racing Organisation Brabham BT19 Repco V8
3 Graham HILL Team Lotus Lotus 49 Ford Cosworth V8
4 James HOLLOWELL Owen Racing Organisation BRM P83 BRM H16
5 Georges PITT Team Primrose Brabham BT23B Climax FPF 2.7 L4
12 David HOBBS Bernard White Racing BRM P261 BRM V8
14 Alan REES Cooper Car Company Cooper T81 Maserati
15 Chris IRWIN Reg Parnell Racing BRM P83 BRM H16
16 Jo SCHLESSER Guy Ligier Cooper T81 Maserati
18 Piers COURAGE Reg Parnell Racing Lotus 25 BRM P56 V8 2.0
19 Brian REDMAN David Bridges Lola T100 (F2) BMW
21 Jacky ICKX Tyrrell Racing Organisation Matra MS5 (F2) Ford Cosworth L4
22 Jean-Pierre BELTOISE Matra Sports Matra MS5 (F2) Ford Cosworth L4
23 Johnny SERVOZ-GAVIN Matra Sports Matra MS5 (F2) Ford Cosworth L4
29 Petra KIENAST Kienast Eagle T1F Climax FPF 2.7 L4
30 Jochen RINDT Cooper Car Company Cooper T86 Maserati
31 "Pedro de la Bassetta" Team Vulkan Matra MS5 (F2) Ford Cosworth L4
32 Guy LIGIER Guy Ligier Brabham BT20 Repco V8
34 Conrad McLEOD McLeod McLeod Climax FPF 2.7 L4
40 "Chris LEWIS" STP Lola Team Lola-Paxton Spcl Pratt & Withney turbine
42 Philippe NICOLAS Team Wookey Maserati France Cooper T81 Maserati
44 Bob BONDURANT Team Wookey BRM P261 BRM V8
55 Luigi MENNELLA Scuderia Centro Sud Ferrari 312 Ferrari
56 Nathy WEHBÉ Scuderia Centro Sud Ferrari 312 Ferrari
72 "Razor Ramon" Don Pedro de la Zapata Lola T100 (F2) BMW
On voit que Nathy Wehbé a désormais rejoint la Scuderia Centro Sud. Les journalistes gardent un discret silence sur les raisons du transfert mais plaisantent entre eux sur la "chance" de son coéquipier Luigi.  Andrea de Adamich perd donc sa position de  second pilote. L'accord pourrait inclure les deux derniers GP en Amérique du Nord.
L'autre surprise est George Pitt dont la Brabham BT23B-Climax, est l'une des 3 BT23 F2 transformées pour recevoir un antique Climax 2.7l 4 cylinder.
Mais celui qui attire tous les regards c'est "Chris Lewis", né Christian LUIS que l'on avait déjà vu au GP d'Allemagne, marqué lui aussi par une pléthore d'engagés. Mais cette fois, c'est sa voiture qui surprend tout le monde.
Christian Luis (19e Août 1943) est un pilote de course anglais né à Algeciras, en Espagne, d'une mère anglaise et d'un père espagnol, qui se retrouva prisonnier, en Avril 1943 à cause de ses services sous la Seconde République espagnole pendant la guerre Civir espagnole. Après avoir été arrêté, il a été réduit en esclavage, obligé de travailler sans cesse à la construction avec d'autres captifs de l'Abadía Benedictina de la Santa Cruz del Valle de los Caídos (un monument commencé par le dictateur Francisco Franco Bahamonde en 1940 et terminé 18 ans plus tard) jusqu'à leur exécution en 1945. Pendant ce temps, Christian et sa mère se sont réfugiés à Gibraltar. Le petit enfant ne connaîtra jamais le sort de son père absent jusqu'en 1960.
En 1946, un an après la fin de la Seconde Guerre mondiale, Christian - agé alors de deux ans - et sa mère prennent un vol pour le Kent, où ses grands-parents maternels vivaient. Il a donc été élevé par ses grands-parents et sa mère à Swanley, Royaume-Uni, où il a grandi et acquis la nationalité britannique.
A cette époque, dans le Kent, un circuit de course était en état de reconstruction: le Stade de Brands Hatch. Au cours de la Seconde Guerre mondiale, il a été utilisé comme un parc de véhicules militaires, et il a été soumis à de nombreux raids de bombardement. En conséquence, il faut beaucoup de travail avant de devenir un circuit de course professionnel. Un an plus tard, Christian Luis est allé avec son grand-père pour regarder un événement de moto (et le premier à Brands Hatch Stadium à être diffusé par la BBC), et le petit enfant, étonné, enregistra par cœur le lieu.
En 1949, une nouvelle reconstruction pour améliorer le circuit routier fut été annoncé par Joe Francis (directeur général de Brands Hatch Stadium Ltd.) avec l'approbation du RAC, afin de permettre des événements de course sur quatre roues sur un tracé plus approprié et rentable de manière efficace. En trois occasions, Christian a visité le circuit avec sa famille, et le petit garçon a aidé véritablement sur les travaux en transportant des briques, des brochures et des pots de peinture. Il a également planté avec sa famille quelques fleurs à côté de la piste. Ces détails ont gagné la sympathie de Ken Gregory, un travailleur du RAC à l'époque, et un contact étroit de Joe Francis, qui a invité la famille à assister sur le circuit le 16 Avril 1950 à une réunion de lancement de la Formule 3.
Un autre meeting en Juin 1950 accueillit cinq courses, toutes remportées par Stirling Moss, un nom dont Christian se souviendrait de ce jour, en raison des thriumps du conducteur et étant relié également à Ken Gregory. La réunion "Bank Holiday" d'Août a vu pour la première fois, la participation de la presse nationale avec le Daily Telegraph parrainant l'événement principal de la journée. Au cours de 1950 et 1952, Christian développe sa vocation d'être impliqué dans la course automobile.
Christian est inscrit à l'école primaire communautaire à Downsview  au cours de son enfance, jusqu'à l'obtention de son diplôme à l'âge de 11 ans. Après cela, il est devenu un étudiant de l'école Dickens Charles jusqu'en 1961, spécialisée dans les mathématiques et les principes d'ingénierie. Dans sa vie personnelle, il se procura sa passion étant fan de Stirling Moss et la Mercedes W196, compte tenu de la monoplace allemande comme la "machine parfaite". Vivant dans le Kent, Christian devin naturellement un spectateur régulier de Brands Hatch pour la course automobile. Avec Ken Gregory comme secrétaire du Brands Hatch Stadium  depuis 1951, Christian eut l'occasion de rencontrer entre 1956 et 1960 des personnalités comme Stirling Moss (son idole d'enfance), Jack Neill, Graham Hill, Dean Delamont, John Surtees, Bob Anderson et Eric Broadley .
Le point de sa vie la plus sombre est arrivé en 1960, une année où sa grand-mère fût été heurtée par une voiture et tuée. Sur son lit de mort, elle a avoué à Christian l'horrible mort de son père. Sans le surprendre vraiment, ces dernières paroles lui causèrent un intense sentiment de colère contre le franquisme en Espagne, en se jurant de ne pas représenter en aucune manière à l'Espagne jusqu'à ce que le régime y ait été détruits. La dépression postérieure causée par la mort de la grand-mère lui a presque coûté son diplôme sans redoublement.
Après un oubliable 1960 et une tumultueuse année 1961, Christian a rejoint GrandsKent Business en tant que mécanicien néophyte pendant une brève période de temps - trois mois - en Septembre 1961, juste après avoir passé son test de conduite. Ceci est dû à l'offre de Eric Broadley à travailler comme mécanicien à temps plein et pilote d'essai sur Bowmaker-Yeoman Racing Team, géré par Reg Parnell. Au cours de 1961, Eric Broadley se préparait pour faire débuter son nouveau châssis en Formule Un l'an prochain, avec John Surtees et Roy Salvadori en tant que pilotes.
En 1962, Christian occupe donc son rôle prévisible comme apprenti mécanicien dans l'équipe, renoue à nouveau le contact avec quelques vieux amis qu'il connaissait à la fin des années 50, et se nourrit beaucoup de son expérience de travail. Mais l'année suivante, les choses sont devenues plus difficiles. Avec le retrait de Bowmaker, Parnell a continué à courir les voitures comme un participant privé, sans  grand succès. Un total de trois privés et six pilotes ont continué à utiliser le châssis Mk 4 pendant 1963. Christian a été invité à être pilote d'essai pour Reg Parnell en raison de sa connaissance de la voiture. A la fin de l'année, toutes les équipes privées renoncèrent à utiliser le Mk 4 à nouveau. Depuis lors, la Lola Mk 4 devint une pièce de musée.
Alors que Christian était à la recherche d'un nouvel emploi au début de 1964, il reçoit une nouvelle offre d'emploi d'Eric Broadley: un travail en Formule 2 pour lui pendant deux ans, comme chauffeur mécanicien et pilote de test. Au GP de Formula One britannique (tenue à Brands Hatch pour la première fois), Christian a eu l'occasion de faire le tour du circuit d'un modèle de BRM 15 avant la course, grâce à Joe Francis, Ken Gregory et le Champion du Monde de la Formula One 1962 Graham Hill. La relation entre Eric et Christian prend une connotation filiale, et un siège de Formule 2 est offert à Christian pour 1966.
Alors que Christian était en compétition en Formule 2 avec des résultats positifs, en Formule Un, la saison 1966 a été la première de la «formule litre 3", qui a vu la capacité maximale du moteur doublé par rapport à la saison précédente. Les constructeurs britanniques ont été contraints de chercher ailleurs après le retrait de Climax de la course. Pendant ce temps, un Américain appelé Ken Wallis développait le STP-Paxton Turbocar pour 1966 Indianapolis 500. La voiture a été construit autour d'une ossature en forme de boîte en aluminium. Le pilote était assis sur le côté droit de la colonne vertébrale, tandis que le moteur à turbine ST6B-62 de Pratt & Whitney Canada, a été monté sur le côté gauche de la colonne vertébrale. Wallis a proposé le projet de Carroll Shelby, Dan Gurney, et Andy Granatelli. Les trois ont approuvé le concept. Mais plus tard, le châssis en aluminium de la voiture a été gravement déformée pendant le traitement thermique à la mi 1966, ce qui élimine toute possibilité de course automobile en 1966 Indianapolis 500.
Informé le flop, Eric considéré comme l'idée d'acheter un châssis STP-Paxton et d'adapter toute son innovation dans le champ de la classe Formula One avec John Surtees en tant que pilote. Cependant, il n'y avait aucune garantie de concurrence en 1967, et John Surtees finalement décanté pour les jours Honda Racing après sa victoire avec Cooper au Grand Prix 1966 du Mexique, la dernière manche de la saison organisée en Novembre.
Pour 1967, Christian a été élu comme le premier pilote officiel de la STP Lola équipe flambant neuf. Mais néanmoins, le châssis n'a pas encore été fait. Après des mois de développement jusqu'à la mi Juin, plusieurs tests ont été effectués à Brands Hatch et Snetterton. Christian a conclu que la voiture, avec son empattement long, fiable (bien laggy) moteur, la nervosité de la machine et le châssis relativement léger, serait plus à l'aise sur les pistes à grande vitesse que sur les circuits serrés, où les problèmes de manutention sont plus notoire. En conclusion, la plupart des inconvénients du véhicule pourrait être contrebalancé par la connaissance de Christian Luis sur les réglages de la voiture.
Avec STP comme officiel Lola et sponsor principal Christian Luis, il est préparé pour rivaliser sur la Coupe 1967 Gold (Oulton Park Circuit) comme une course d'essai, la course pour le Royaume-Uni et sous le nom de Christian Lewis.
One can notice that Nathy Wehbé has now joined the Scuderia Centro Sud. All the journalists stay mute about the reason of the transfer but laugh between themselves about the "luck" of her team mate Luigi. Andrea de Adamich looses his position as second pilot. The deal could include the North American races to come.
Another surprise is George Pitt's Brabham BT23B-Climax, one of 3 BT23 F2 specially built to be raced with an old CLimax 2.7l 4 cylinder. But the most spectacular entry is that of Chris Lewis, born Cristian LUIS, already seen at the German Grand Prix under similar plethora of entrants. But this time, the focus is on his very strange car.
Christian Luis
(19th August 1943) is an English racing driver born in Algeciras, Spain, to an English mother and a Spanish father, with the later made prisoner in April 1943 because of his services to the Second Spanish Republic during the Spanish Civir War. After being arrested, he was converted into a slave, obligated to work incessantly in order of construct along with other captives
Abadía Benedictina de la Santa Cruz del Valle de los Caídos
(a monument started by the dictator Francisco Franco Bahamonde in 1940 and finished 18 years later) until their extenuation and posterior execution in 1945. During that time, Christian and his mother went to Gibraltar. The little kid would never know about the fate of his missed father until 1960.
In 1946, a year after the end of the World War II, Christian - with two years old - and his mother catched a flight to Kent, where his maternal grandparents lived. He was thus raised by his grandparents and mother in Swanley, United Kingdom, where he grew up and adquired the British nationality.
At that time in Kent, a racing circuit was in reconstruction status: the
Brands Hatch Stadium.
During the World War II, it was used as a military vehicle park, and it was subject to many bombing raids. In consequence, it needed much work before it could become a professional racing circuit. A year later, Christian Luis went with his grandfather to watch a Motorcycle event (and the first one in Brands Hatch Stadium to be broadcasted by the BBC), and the little kid recorded by heart the place, astonished.
In 1949, a new reconstruction for serve better experiences on road circuit was announced by Joe Francis (managing director of
Brands Hatch Stadium Ltd.
) with approval of the
RAC
, in order to meet four-wheel racing events on a more appropiate and cost-effective manner. In three occasions, Christian visited the circuit with his family, and the little boy helped genuinely with the changes by carrying bricks, brochures and paint pots. He also planted along with his family some flowers next to the track. These details gained the sympathy of Ken Gregory, a worker of the RAC at the time, and a close contact of Joe Francis, who invited the family to attend the circuit on 16th April 1950 for an opening meeting of Formula 3.
Credits: 500race.org
Another meeting in June 1950 resulted with five races, all of them won by Stirling Moss, a name which Christian would remember from this day, because of the driver's thriumps and being linked also to Ken Gregory. The August Bank Holiday meeting saw for the first time, involvement of the national press with the Daily Telegraph sponsoring the main event of the day. During 1950 and 1952, Christian developed the vocation of being involved in motor-racing.
Christian attended
Downsview Community Primary School
during his childhood, getting his graduation at the age of 11. After that, he became a student of the
Charles Dickens School
until 1961, specializing in Maths and Engineering principles. In his personal life, he procured his passion being fan of Stirling Moss and the Mercedes W196, considering the German single-seater as the "perfect machine". Living in Kent, inclined Christian to be a regular spectator of Brands Hatch motor-racing contests. With Ken Gregory as Secretary of the
Brands Hatch Stadium
since 1951, Christian had the opportunity to meet between 1956 and 1960 personalities like Stirling Moss (his childhood idol), Jack Neill, Graham Hill, Dean Delamont, John Surtees, Bob Anderson and Eric Broadley.
Credits: 500race.org
The darkest point of his life arrived in 1960, a year in which his grandmother was struck by a car and killed. On her deathbed, she confessed to Christian the horrible way his father died. Albeit not surprised, her last words caused him intense wrath feeling against the Franquism Spain, swearing himself not to represent in any way to Spain until the regime were destroyed there. His posterior depression caused by grandmother's death almost costed him his graduation without repeating.
After a forgettable 1960 and a tumultous 1961, Christian joined GrandsKent Business as a neophyte mechanic for a brief period of time - three months - in September 1961, just after passing his driving test. This is because of Eric Broadley's offer to work as a full-time mechanic and test driver on
Bowmaker-Yeoman Racing Team
, managed by Reg Parnell. During 1961, Eric Broadley considered to make debut his newest chassis in Formula One the next year, with John Surtees and Roy Salvadori as drivers.
In 1962, Christian occupied his predictable role as a mechanic apprentice in the team, meeting again with some old friends and acquittances he knew at his late 50's, and nurturing a lot from his work experience. But the next year, things became more difficult. With Bowmaker's withdrawal, Parnell continued to run the cars as a privateer entrant, without measures of success. A total of three privateers and six drivers continued to use the Mk 4 chassis during 1963. Christian was invited to be the test driver for Reg Parnell due to his knowledge about the car. At the end of the year, all private teams resigned to use the Mk 4 again. Since then, the Mk 4 Formula One chassis turned out to be history for the books.
Credits: lolaheritage.co.uk
While Christian was searching for a new job at the beginning of 1964, he received a new job offer from Eric Broadley: work in Formula 2 for him for two years, as a mechanic and test driver. At the 1964 Formula One British Grand Prix (held in Brands Hatch for the first time), Christian had the opportunity to drive around the circuit a BRM Type 15 before the race, thanks to Joe Francis, Ken Gregory and the Formula One 1962 World Champion Graham Hill. The relationship between Eric and Christian was like father and son, and a Formula 2 seat was offered to Christian for 1966.
While Christian was competing in Formula 2 with positive results, in Formula One, the 1966 season was the first of the "3 litre formula", which saw maximum engine capacity doubled from the previous season. British constructors were forced to look elsewhere after Climax's withdrawal from racing. Meanwhile, an American called Ken Wallis was developing the STP-Paxton Turbocar for 1966 Indianapolis 500. The car was built around an aluminum box-shaped backbone. The driver was seated on the right side of the backbone, while the Pratt & Whitney Canada ST6B-62 turbine engine, was mounted on the left side of the backbone. Wallis offered the plan to Carroll Shelby, Dan Gurney, and Andy Granatelli. The three approved the concept. But later, the aluminum frame of the car was badly warped during heat treating in mid 1966, eliminating any possibility of the car racing in the 1966 Indianapolis 500.
Informed about the flop, Eric considered the idea of purchasing a STP-Paxton chassis and adapt all its innovation into Formula One class field with John Surtees as a driver. However, there was no guarantee of competing in 1967, and John Surtees finally decanted for
Honda Racing
days after his win with Cooper at the 1966 Mexican Grand Prix, the final round of the season hosted in November.
For 1967, Christian was elected as the first official driver of the brand-new
STP Lola
Team. But nevertheless, the chassis was not done yet. After months of development until mid June, several tests were done at Brands Hatch and Snetterton. Christian concluded that the car, with its long wheelbase, reliable (albeit laggy) engine, nervousness of the machine and relatively light chassis, would be more at home on high speed tracks than on tight circuits, where the handling problems are more notorious. In conclusion, most of the drawbacks of the vehicle could be counter-balanced by Christian Luis' knowledge about car setups.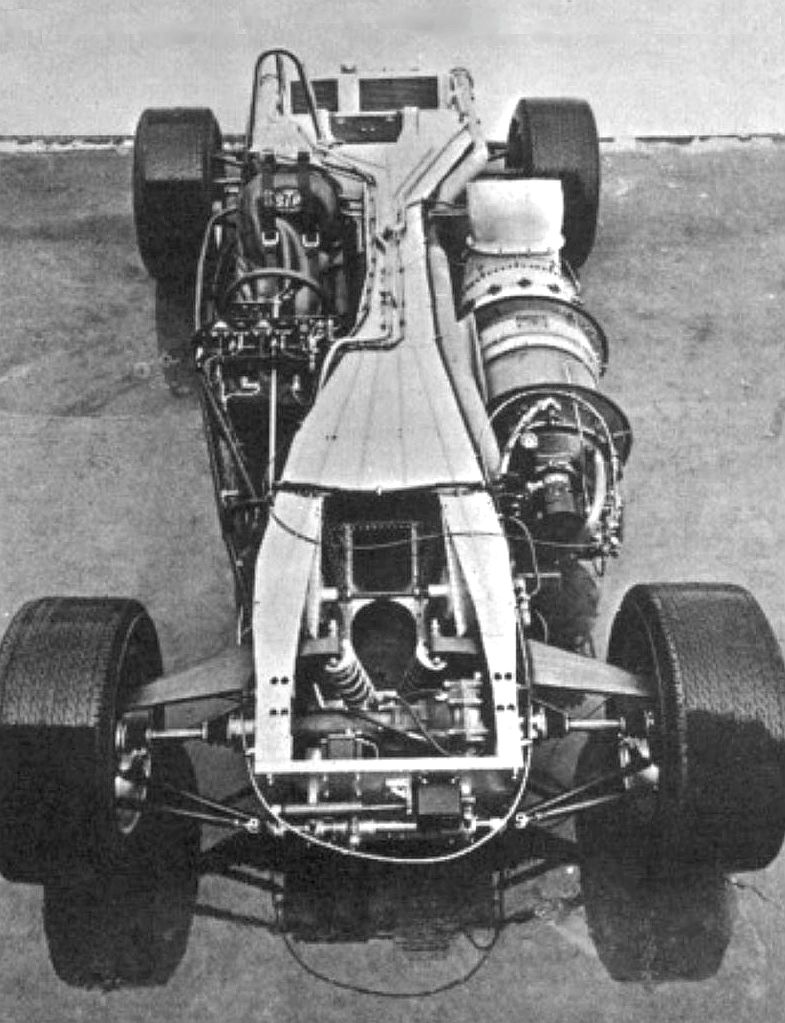 Credits: autodrome-cannes.com
With STP as the official Lola and Christian Luis' main sponsor, he's prepared for compete on the 1967 Gold Cup (
Oulton Park Circuit
) as a test race, racing for UK and under the name of Christian Lewis.
Last edited by Wookey on Sat 3 Sep - 12:31; edited 11 times in total
Page 6 of 23 •

1 ... 5, 6, 7 ... 14 ... 23


---
Permissions in this forum:
You
cannot
reply to topics in this forum