Page 13 of 13 •

1, 2, 3 ... 11, 12, 13

Well, it's always good to know that the mod is almost finished! Hype is real

Thank you very much for everything, and good luck with personal things!! It's always the most important thing in life.
The waiting will worth it

Best wishes,

Sudden

Sunday Driver





Messages

: 23


Date d'inscription

: 2017-04-27


Age

: 24



Here's a pic of René Arnoux in Brazil, ahead of the second group, followed closely by Pironi, Andretti, De Angelis, Watson, Giacomelli and me (as Theodore's Patrick Tambay).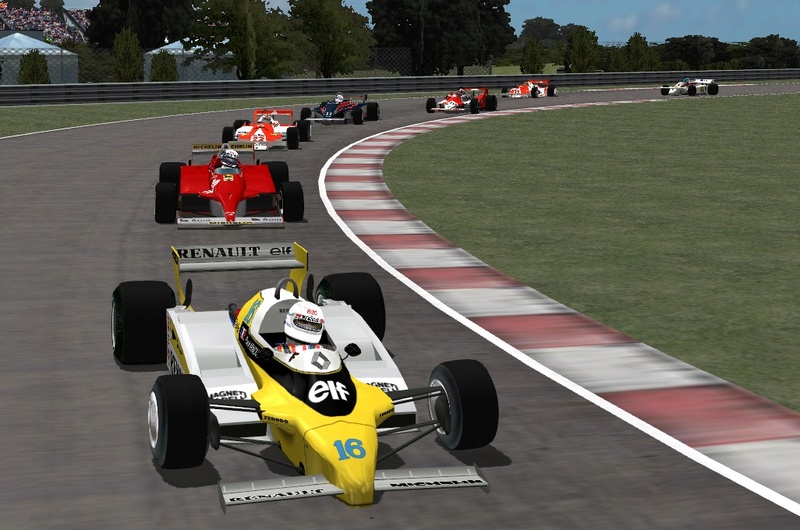 This is the group you wouldn't expect suprises back then, while Piquet, Reutemann, Jones, Prost, Villeneuve, and Laffite lead the pack.
Argentina's pics next while we conduct the final touches.
Best wishes.
PS: in case you'd like to see any of the cars to be portrayed in the mod beforehand, just post your request here and I'll gladly post a pic of it.  


d4nf1c

Competition racer





Messages

: 128


Date d'inscription

: 2016-06-12



So beautiful, really happy to see this cars!
Good luck for the end !
Do you have some williams pics?
Thank you very much
Good continuation!!

Regards,

titi01170

Sunday Driver





Messages

: 31


Date d'inscription

: 2016-05-07



Once more, these cars are beautiful!! Hype is real

Apart from that, I would like to make you a little question, just for curiosity.
In therms of "fps friendly", this mod will be like 1980 race-by-race by Mario & Neiln1? Or it will be "fps heavy" like 1982 race-by-race by Neiln1?
Both mods are fantastic high-quality, and I'm sure that 1981 will be awesome too, but one is more fps friendly than the other, and I feel curiosity to know it

Thank you so much!! This 1981 mod will be pure gold


Sudden

Sunday Driver





Messages

: 23


Date d'inscription

: 2017-04-27


Age

: 24



Page 13 of 13 •

1, 2, 3 ... 11, 12, 13

---
Permissions in this forum:
You
cannot
reply to topics in this forum